News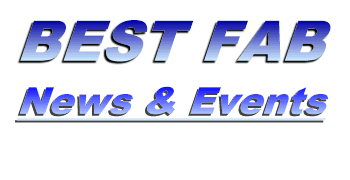 /!----------------------START NEWS TEXT HERE-----------------------------//>
Aug. 3, 2012 - BERMUDA CHALLENGE BREAKING NEWS!!!
After Numerous, Weather-Related Delays, We have just received Word from
Chris Fertig
, Captain of the
TDI Clean Diesel / C/M / Maersk / Best Fab - Statement 37'
, that the
Bermuda Challenge
is Now Set to Begin
Saturday - Aug. 4, 2012! Start Time is Set for 9:30 am
, but may vary, depending on the Weather!
You can Watch the World Record LIVE VIDEO STREAM by Clicking HERE!
If Best Fab Marine Fuel Tanks are Good Enough for a State-of-the-Art Center Console, Gunning for a New World Record - They're Good Enough for YOUR BOAT!
"Quality. No Compromises. Period" is Not just a Slogan, but a Way of Life here at
Best Fab Inc.!
Good Luck to Chris, Nick, and the Rest of the Crew! Thank You for Making
Best Fab Inc.
Part of the Team! Stayed tuned to the
"Best Fab News Desk"
for Updates!
May 18, 2012 - The Bermuda Challenge is ON!
Chris Fertig, Nick Buis, and the rest of the
TDI Clean Diesel / Cummins/Mercury / Best Fab - Statement 37'
Crew are Ready to Rock, Ready to Roll, and Ready to Set a
NEW WORLD RECORD!
After the first attempt was called-off for safety reasons, due to Extremely rough seas, we have provided the Team with a pair of Auxiliary Deck Tanks to Ensure that they make the trip from New York City to Bermuda - and back - Safely, and in Record-Time! Check out
Best Fab's
mention, and a picture of us, in
Boating Magazine!
Check back Often at the
"Best Fab News Desk"
- We will keep you updated!
Sep. 23, 2011 - Bermuda Challenge Sponsor! / Top-Rated eBay Sellers!
Best Fab is Extremely Proud to sponsor
Chris Fertig
and the
TDI Clean Diesel / Cummins/Mercury / Best Fab - Statement 37' Crew
in This Year's
Boating Magazine "Bermuda Challenge"!
Chris is currently attempting a New World Record Time, racing Non-Stop against the clock from New York City to Bermuda! You can catch the action LIVE on
Boating Magazine's "Bermuda Challange" Website
!
Best Fab is the Official Fuel Tank Sponsor for Chris Fertig's Statement 37' V-Bottom!
Check out some of the gallery images, featuring Best Fab Fuel Tanks:
  - Fuel and Water Tanks Provided by Best Fab Inc.!
  - Best Fab Fuel Tanks being installed by Statement Marine!
  - Glimpse of a Best Fab Fuel Tank after installation by Statement!
In Other News
- Best Fab Inc. has won yet
ANOTHER Major Award from eBay!
Best Fab Inc. is now
OFFICIALLY
a
Top-Rated eBay Seller!
Check out
Best Fab's eBay Store
for all of your WEMA sending unit, marine fitting, valve, metal finishing, and aluminum and stainless steel sheet needs! We sell Any Quantity, from 1 to 10,000 Pieces, to Everyone from Hobbyists, D.I.Y. Enthusiasts, and Boat Owners - to Large Boat Manufacturers and even customers in the Oil and Natural Gas Industry! Thank You, to all of our Loyal Customers!
Apr. 26, 2011 - WEMA USA Authorized Resellers! / Keep Up with Best Fab on Facebook!
Best Fab Inc. has recently become a WEMA USA Authorized Reseller! WEMA manufactures the Highest Quality Fuel, Water, and Holding senders available, Anywhere! From Marine, to Automotive, and even Aerospace applications - WEMA means Quality and Reliability.
Check out Our Online Store for Pricing and Availability!
Best Fab is ALWAYS working on new and exciting projects and it used to be hard to keep up with us... but not anymore!
Follow Best Fab on Facebook
to find out what we are working on now and to see our new product lines before any one else!
"Like Us" and be the FIRST to see WHAT'S NEXT!


Feb. 28, 2011 - Check Out Our Pics from the Miami Boat Show! / eBay Power Sellers!
You can view our pictures from the Miami International Boat Show 2011 on Best Fab Inc.'s Facebook page! Thank you to all of our Friends and Customers for the Great Time! While you're there, you can also check out our award for becoming Official eBay Power Sellers! Thank you to all of our online store customers! As long as you keep buying, we will keep offering Top-of-the-Line Materials and Components at Discount Prices! Thanks again!


Jan. 14, 2011 - Best Fab is on Facebook and Manta.com Business Search!
You can now Follow Best Fab Inc. on Facebook, and find more information on our products and services on Best Fab's Manta.com Business Profile! Take a look!


Jun. 24, 2010 - Updated Warranty Policies Uploaded!
Updated, 2010 Warranty Policies are Available for Download on our Warranty Page!


Feb. 21, 2010 - BestFab.com is Proud to Present... our New Picture Pages and Going Green Page!


Jan. 22, 2010 - Our E-Bay Store is Up and Running!
Click Here to View Best Fab's E-Bay Store!



May 18, 2009 - Best Fab Inc.'s New Website Launches! More News and Information to come!